This post may not come as a surprise to most of you. But I
love
LOVE
Target. Here are the 10 reasons:
1. The dollar section
2. We have a Super Target by my house so one stop shopping!
3. The prices are reasonable.
4. Nothing looks cheap.
5. Shoes
6. Clothes (esp maternity)
7. Home goods
8. Baby stuff
9. Shoes (repeat?!)
10. A recent ad with a little boy who has Down syndrome.
What? You didn't see it? Here it is: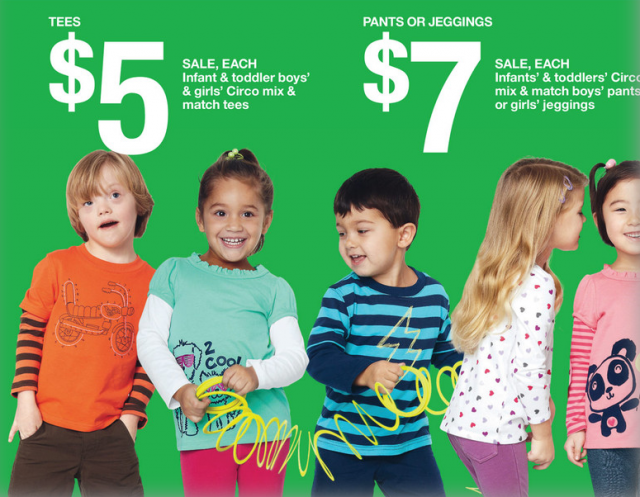 Isn't he cute? His name is Ryan and he is pretty awesome if you ask me not only because he rocks designer genes but he is super cute! If you heard about it it's because of the Down syndrome community not because of Target. Why do you ask? Target did the greatest thing in support of Down syndrome. They didn't say anything. No press release. No commercial. Just a normal ad with normal kids. The kicker? Nordstrom's did the say thing a few months ago and no one detected it. Guess who was the model? Ryan!
I see our goal of awareness and acceptance growing with ads like this. I guarantee that most of you actually had this ad at home, looked at him, and didn't even notice Ryan. Why? Hopefully it' because it doesn't matter. Will this ad make me shop at Target more? Hell yeah....but that isn't that difficult due to the fact I am probably the most frequent shopper at my local ST.
I'm Down with Target! Are you?
Speaking of models-have you seen Harper's model face? She takes modeling for mama very seriously. She is very professional.
I've had many emails/posts wondering where these outfits are from. Sorry but the tank top/dress is from Paris. Nope not kidding. My kick ass cousin was in Paris last summer and snatch up a few wonderful items for Miss H. The flower and headband are from a craft fair and the pink polo dress I think is Old Navy. Pictures were taken with Instagram. Follow me: I'm kbohacek. We took them the day before the snow came. It felt like spring and H and I lived it up.
Actually a spring/summer dress with a cardigan belted on. Maybe it was the fact that we spent 5 days locked in a hospital but our inner diva's came out and we had a mini fashion show.
Have a fabulous weekend and remember to shop at Target! I know I will be!!
i